Featured Campus Coalition: MSUvote
FEATURED CAMPUS COALITION:
MSUvote
Voting on Michigan State University Campus Jumps in 2018 (original title)
Excerpt from article originally published in MSU Today, September 27, 2019
---
Michigan State University reported that student voting on its campus was up in the 2018 midterm election, increasing to 35% compared to 14% in 2014.
In recent years, campus and community partners worked together on MSUvote, a nonpartisan campus coalition with a mission to increase the number of registered student voters, inform and educate students on candidates and issues while bolstering student participation on Election Day. MSUvote is co-chaired by Renee Brown, director of the MSU Center for Community Engaged Learning, and Suchitra Webster, MSU Community Liaison.
"The emphasis is on registration, education, and participation," Brown said. "Voting is a fundamental example of civic engagement. Their increased involvement during the 2018 election process is another way that Spartans are learning to address society's most critical issues and we are proud of their enthusiasm and willingness to take action."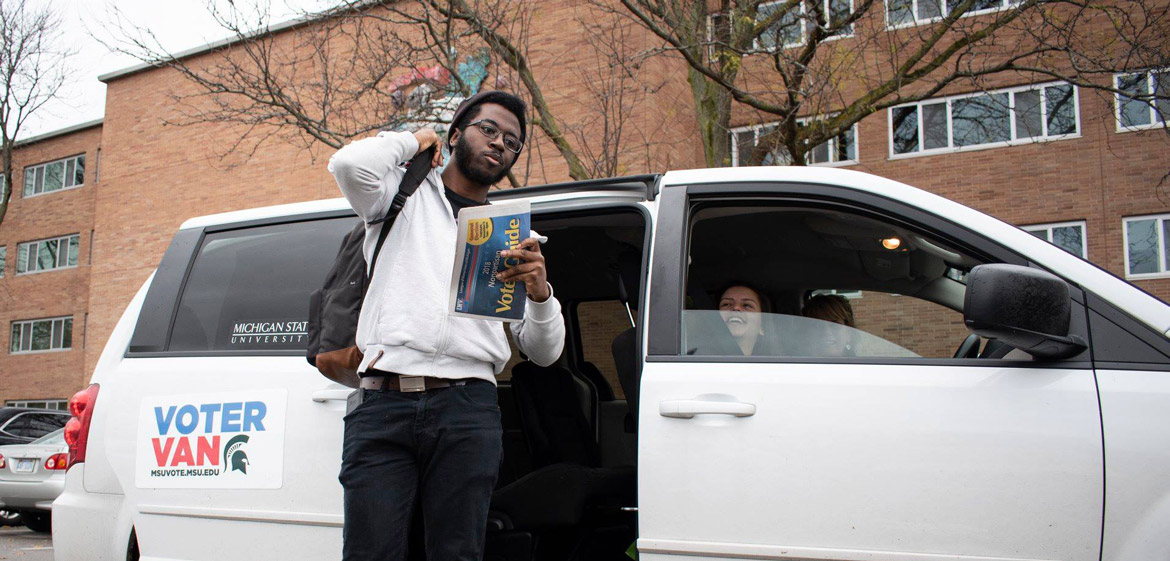 MSU was designated a Voter Friendly Campus beginning in 2016. MSUvote joined the Big Ten Voting Challenge in 2017 with the goal to raise the number of registered student voters and to get them to the polls. MSU also has longstanding partnerships with the Campus Election Engagement Project, the Campus Vote Project and the League of Women Voters.
"Our students recognize the future is in their hands," said MSU President Samuel L. Stanley Jr., M.D. "Voting for leaders and issues they believe in can create better understanding of the challenges facing the world we live in. MSU is providing a strong foundation of support to help students connect their civic responsibility to an increasingly diverse and complex global society."
"We have been especially fortunate to have the full support and commitment of area partners, including the East Lansing City Clerk and the League of Women Voters of the Lansing area," Webster said. "From registering students at orientation to providing voting guides and FAQs, from participating in voter education activities for on and off campus students to staffing multiple campus precincts, these colleagues have been fully immersed in MSU's civic engagement initiatives."
For more information on MSUvote, visit https://www.msuvote.msu.edu/