Dr. Martin Luther King Commemorative Celebration: Stuff the Library Book Drive
Hosted by The Martin Luther King Jr. Commemorative Celebration Planning Committee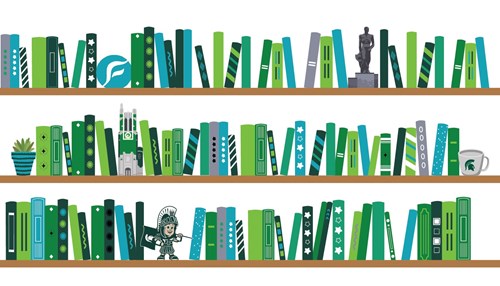 Imagine a world where all children can see themselves in the pages of a book. Imagine a world where books can be windows to learn about other cultures, critical contributors to our world, and movements that have helped to shape our nation.
The MSU Dr. Martin Luther King, Jr. Commemorative Celebration Planning Committee is hosting another Stuff the Library event as a component of this year's celebration to benefit Flint Community Schools. The event aims to fill school libraries in with books on topics of social justice and with characters representing diverse backgrounds.
Will you help us reach our goal of $15,000 and over 1,000 books donated? Through our partnerships with local schools and organizations, your support helps raise awareness around social justice, assists in promoting books with diverse representation or characters, stories, and authors and gets the books into the hands of children ages 0-18 in Flint and the surrounding area.
You can be involved in several ways:
SHOP

Amazon Wishlist and mail books to the donation collection point address saved under MSU MLK Committee with the Amazon Wishlist. Books will be dispersed to local schools and organizations.
Or shop a Black Indigenous People of Color (BIPOC) owned bookstore or local book store like bookshop.org, liberationstationbookstore.com/, or locally owned Black book store, Socialite Society, located in the Lansing Mall. The Amazon list can still be referenced, or you can choose a book of your liking that fits the theme!

DROP

In the mail – from BIPOC or local bookstores to:
WorkLife Office, C/O MLK Stuff Library, 479 West Circle Drive Linton Hall, Suite 116, East Lansing, MI 48824
In person – new books you wish to donate at the MSU WorkLife Office. Contact Jaimie Hutchison (hutchj@msu.edu) with any questions.

DONATE
To our Crowd Power page and we will do the shopping for you!
Make a gift by mail: University Advancement
Spartan Way
535 Chestnut Road, Room 300
East Lansing, MI 48824

*Make check payable to Michigan State University and write "Appeal 23OOPCF1MLKSTL" in the note section.